Thal Engineering established its aftermarket business strategy in 1998 in the form of Thal Automotive Air Conditioning Center with the concept of serving aftermarket Automotive AC, Spare parts sales & overall Service for Corporate and Walk-in customers.
Thal Engineering, being only authorized Distributor for Sales & Service of DENSO Products for aftermarket in Pakistan, providing customers with high quality After Sales and Services along with its dealership network nationwide.
Daewoo
Daihatsu
FAW
Ford
Hino
Honda
General Motors
Hyundai
Isuzu
Kia
Master
Mazda
Mercedes
Mitsubishi
Nissan
Suzuki
Toyota
Ambulances
Cranes
Pickups
Caravan
Truck Freezer
Snorkel
Fire Extinguisher
Toyota Hilux Vigo
Hyundai Shehzore
Buses
Trucks
Hiace
Compressor
Evaporator
Condenser
Radiator
Hoses & Tubes
Expansion Valve
Receiver Drier
Refrigerant Gas R-134a
Coolant
Complete Wire Harness & Battery Cables
Complete wire harness of Passenger Cars, Trucks & Buses
Battery cables of Passenger Cars, Trucks & Buses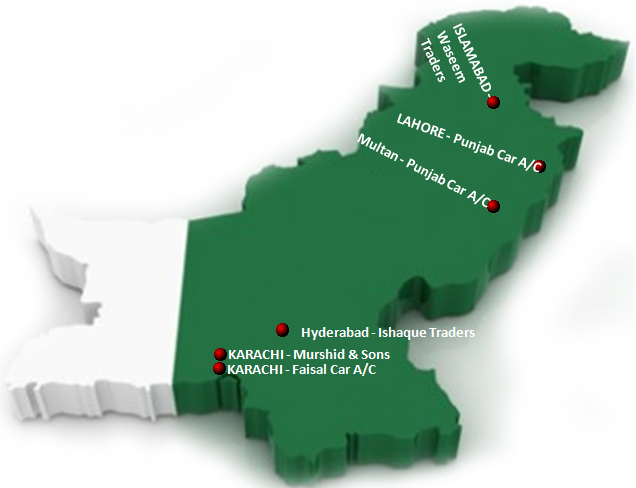 Free check-up campaigns are launched on annual basis at Thal Engineering Aircon Centre (TAC) and dealerships. Schedule of campaign is advertised well before commencement through newspapers and by mailing direct letters and telephone calls to customers. Thorough check-up of vehicle Aircon system is performed by the team of experts and necessary advice regarding on periodic maintenance and repair is given to end users for durability and the best performance of the system.
If you want us to keep you informed about it, please leave your contact after filling a short form below or contact us.