Our Mission
Recognized as an internationally competitive world class manufacturer of engineering products. Providing solutions to our customers ensuring stakeholder's interest and being a good corporate citizen.
Our Vision
Recognized as the most respected and dynamic group with diversifying businesses, and sustaining competitive returns to the stakeholders. An employer of choice and responsibly fulfilling obligation to the wellbeing.
CoreValues
Humility & Respect
Team work
Justice & Integrity
Cleanliness/5S
Entrepreneurship
Optimum use of resources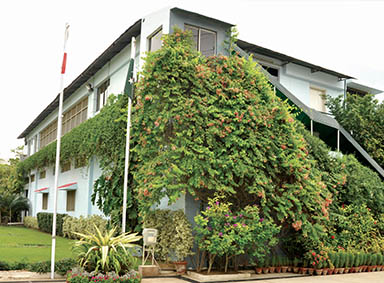 Thal Engineering-Electric Systems was established in the year 2000 with the signing of a TAA (Technical Assistance Agreement) with Furukawa Electric Company, Japan. Furukawa is one of the leading suppliers of automotive wiring harness system in the world and has more than 50 subsidiaries/companies in twenty countries. The combined synergies of both the companies have enabled the business to establish itself in a relatively quick span of time as a premier supplier of car wiring systems to all automobile manufacturers in Pakistan.
In 2018, Thal Engineering signed yet another TAA with Yazaki Corporation, a leading Japanese automotive component manufacturer focusing on wire harnesses and electronic components in the automotive industry. With its new plant set up at Port Qasim, Karachi, this agreement gives Thal Engineering a much greater competitive edge in the Pakistani wiring harness market.
Thal Engineering is the only IATF 16949 certified wire harness manufacturer in Pakistan with automated assembly lines and hi-tech machines, which is an emphasis on quality-centric priorities. Automatic machines, Ultrasonic and Resistance welding machines and Moving track assembly lines amongst other modern machinery and processes enable the company to stay abreast of the vehicle technology.
Customers rely on the Electric Systems Business for producing technologically advanced wire harness systems designed by their principals. When serving customers, the Electric Systems Business believes in and implements exceptional quality, just-in-time delivery and cost control as its key values. Through these unique values, the business achieves maximum customer satisfaction.
The Thermal Systems business started its operations in 1996 with the manufacturing of Auto Air Conditioners for Toyota and Suzuki vehicles manufactured and assembled in Pakistan.
As the Thermal Business evolved in its capabilities through the market requirements for the automobile sector, Thal diversified its product portfolio by starting the mass production of heater blower and air-conditioner controls in 2001 and 2005, respectively. These diversifications were augmented through the addition of heat exchangers, such as heater core, condensers and most recently aluminum radiators. Thal Engineering is the only manufacturer of aluminum radiators in Pakistan.
Ever since its establishment, Thal Engineering's progress has been positive. To deliver a product range of excellent quality, TE entered into a TAA (Technical Assistance Agreement) with Denso Japan in 1996, the second largest auto parts maker in the world, listed on the Fortune 500 and the largest in Japan. The strategic alliance has acquired and obtained world class assistance in manufacturing car air conditioners, heater blowers & now aluminum radiators, enabling TE to move to the next level.
The Engine Component Business (ECB), established under a Technical Assistant Agreement with Denso Corporation, Japan has added a new capability in the Company, through the startup of a new assembly line for the production of two high–tech products, the Starter and the Alternator. ECB successfully completed its trial production phase and has commenced mass production in July 2014. The Engineering Segment of our Company now has become the first manufacturer of Engine Starter and Alternator for passenger cars in Pakistan